About the Chef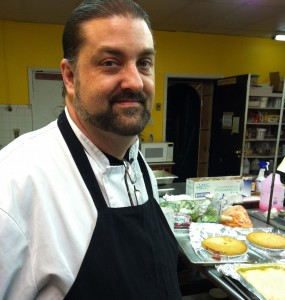 Chef Larry Shields has been in the industry for about 30 years so don't let his boyish looks fool you. He's been married 22 years and has four children and five grandchildren. Larry loves creating fresh dishes and putting his own touch on them. He was a saucier at one time and uses his sauces to give many of his dishes an unexpected twist. Buffet food often lacks seasoning and can be bland but Larry ensures that every dish is seasoned to perfection. Chef is also having a little fun by creating themed menus to go with the shows. Rex's Exes has a southwest theme and for See How They Run, he's already thinking of dishes for the show set in England. The rich and delectable Yorkshire Pudding will be on the menu. So if you haven't been to see us lately, we'd love to see you and we're sure you'll enjoy the food and the show.
Catering
Let Murry's set the stage for your next event!. Whether it is a business meeting, training seminar, company party, fashion show, fundraiser, sports banquet, or a concert we have the perfect space to make your event a success. Our Executive Chef Larry Shields can prepare any menu from a continental breakfast to a customized dinner buffet. We tailor to your event to your specifications and enjoyment.
For more information or to schedule a visit to the theatre, call 501-562-3131 and ask for Ike McEntire.
MENU: NEVER TOO LATE
CARVING STATION:
ROAST BEEF WITH AU JUS
PIT SMOKED HAM
ENTREES:
SOUTHERN FRIED CATFISH
APPLEWOOD SMOKED SPARE RIBS
SOUTHERN MEATLOAF
ARTICHOKE ALFRADO WITH ASIAGO CHEESE
SIDES:
MASHED POTATOES
PAN FRIED GREEN BEANS
CORN ON THE COB
LIMA BEANS AND HAM HOCK
FRIED CABBAGE
SALADS:
TOSSED SALAD
PASTA SALAD
FRUIT SALAD
BROCCOLI SLAW
ANTIPASTA SALAD
SPINACH
DESSERTS
SAVORY BREAD PUDDING
CHOCOLATE PUDDING
PEANUT BUTTER MOUSSE
CHOCOLATE CAKE
CARROT CAKE
(Menu items subject to change)